In the column 'Creator in the spotlight', we put creatives and entrepreneurs in the spotlight to talk about their passion. This time we introduce you to textile artist Eva Verbruggen of Het Atelier Van Eva V.
Meet Eva
As far as I can remember I have been working with my hands. I still do. Call it an addiction. The thing I love most is creating something and learning different techniques. It started as a little girl in the dining room, where I was allowed to darn socks (it wasn't a problem if it wasn't very neat). At the time, I wanted to be an actress, but failed the entrance exam for drama school, so I decided to get into teaching and became a kindergarten teacher. Mandatory creativity for a very grateful public. But I wanted more.
I taught myself to crochet. I could crochet a chain, but I wanted to crochet a hat. That hat was born. I tried until it was just right, without a pattern or knowledge. My fingers kept itching and I started working part-time. Together with Katty, my faithful partner and graphic designer, but above all friend, I started Zeza&Flor, a children's brand with fun t-shirts and crocheted beanies. Those were very popular and our products sold like hot cakes.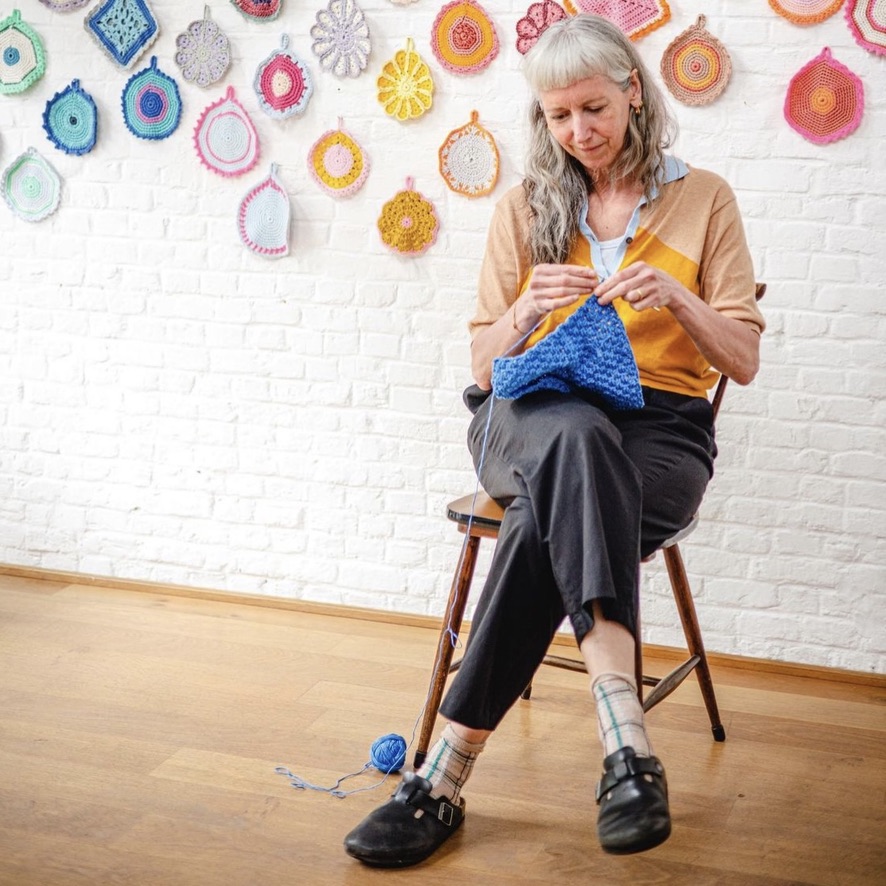 The atelier
Teaching and creative entrepreneurship went well for me. I expanded my knowledge with sewing lessons and soon I was selling skirts with my own brand, and with Nominette labels! This is where I laid the foundation of Het Atelier van Eva V.
Eventually, I stopped teaching. In an impulsive mood I applied for a job as visual merchandiser with a Belgian clothing brand and got the job. I was allowed to think up and carry out shop windows and drove around the whole of Flanders. I loved it. Unfortunately, the company discontinued the brand and I lost my job. A fortunate side-effect, because it was this that prompted me to go into business for myself. Thanks to the unconditional love and support of my sweet husband and the children.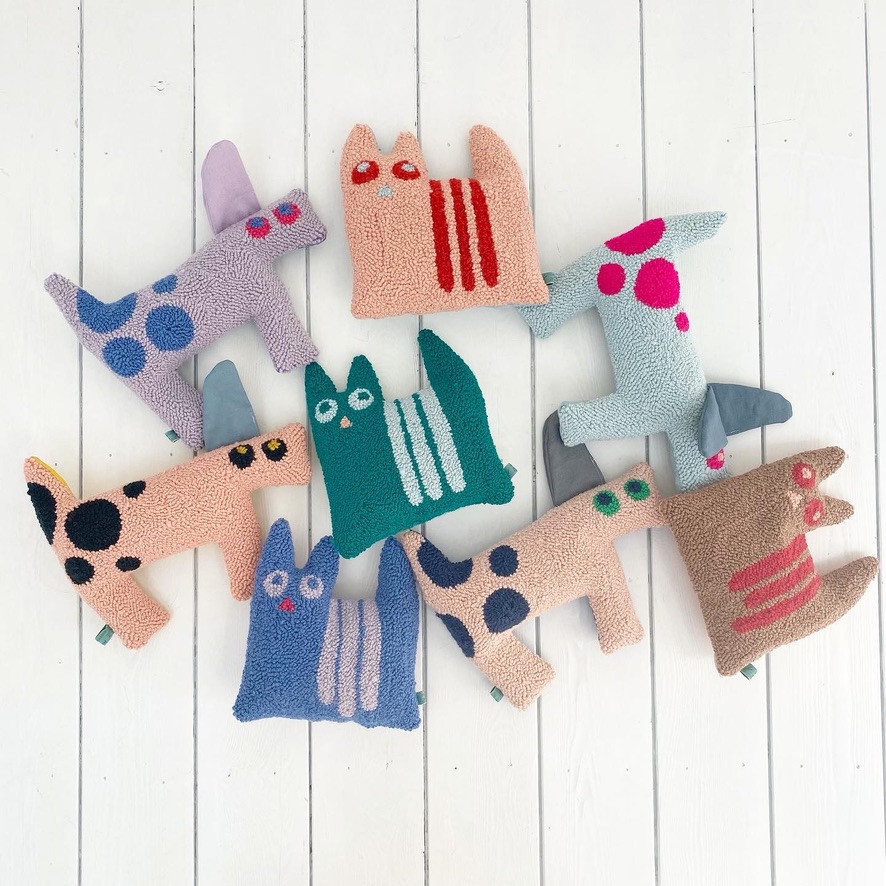 Workshops
Meanwhile, our 'back house' had been beautifully renovated into a light, large space with a bar and toilet on the ground floor. We rented it out for photoshoots or meetings, but it was also often empty. The ideal space to organize something myself. And that's what I did. In November 2015 I gave my first workshop there and it felt like coming home. Teaching and being creative at the same time.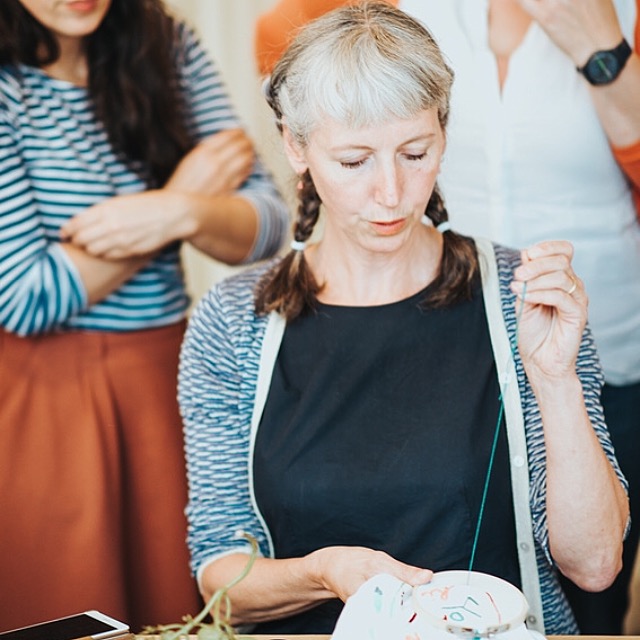 Now it's 7 years later and the workshops are running well. I host workshops with needle and thread myself (weaving, embroidery, punch needle, carpet knotting, temari), but also invite others to give workshops on very different things, from stained glass, ceramics, felting and screen printing to making paper flowers. I also run a webshop. The workshops are in the evening during the week, and in the weekends during the day. During the week I have time to make my own work, always 'signed' with labels from Nominette. Then I also have time to update the website, webshop, Instagram and do administration. I also work on commission for companies, magazines or individuals. There is a lot involved, but I like all aspects. Being busy with my hands is still an addiction. One that makes me very happy.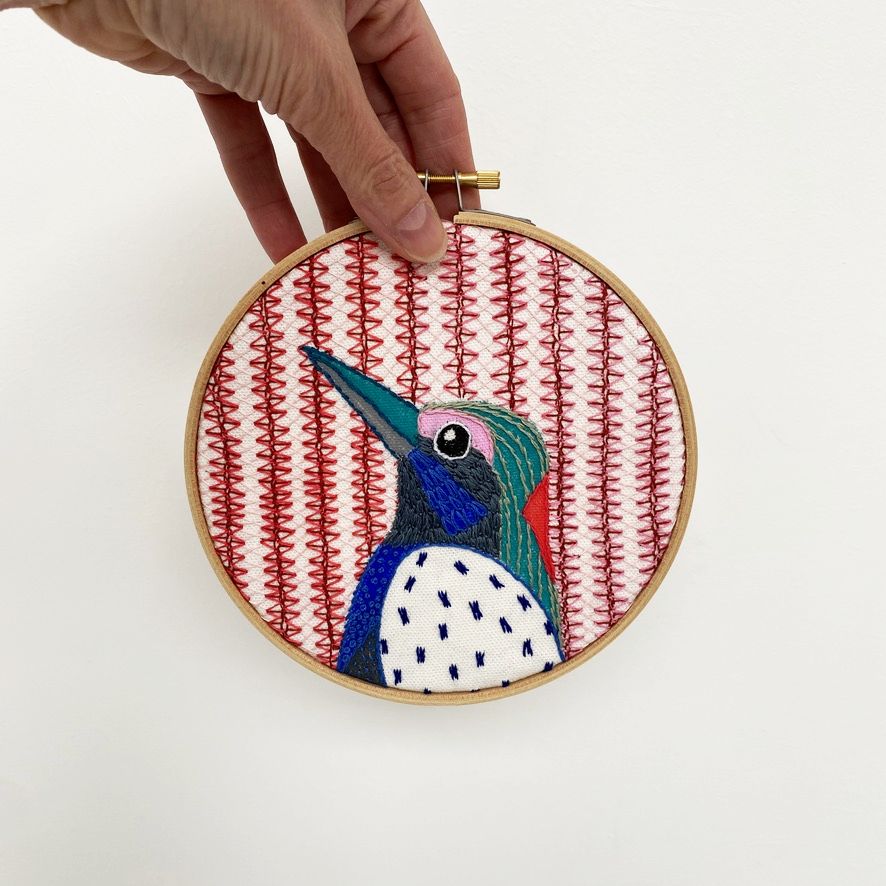 Are you curious about the different workshops I offer, or do you want to take a look at my webshop? Then check out www.hetateliervanevav.be or visit me on Instagram or Facebook.