Not quite sure what kind of label you want? In this blog we hope to help you a little, because we can imagine that it is not always easy to choose from our wide range of labels. We are happy to tell you more about our different types of labels.
At Nominette we weave different types of labels in taffet quality. When you surf to our website to design a label, the kind of label is the first choice you should make. For example, do you want a label with logo, an iron-on label or rather a sew-on label. Below we provide an explanation of each type of label.
Choose a sew-on label if you want a label with text that you can stitch on both sides. Our sew-on labels are available with a label height/bandwidth of 10 or 14 millimetres. This kind of label does not have a fixed length. The length of this label grows with the text and the chosen font. On our website you can choose from different, standard fonts for the sew-on and iron-on labels.
There is always 16 millimetres of blank space on both sides of a sewing label to fold and stitch in. All our labels are supplied on a roll, suitable for cutting and processing yourself. We recommend that you cut the labels with pinking scissors and fold the ends of the label over before inserting to prevent fraying. You can also add one of our many symbols to our sew-on and iron-on labels, such as a heart, Instagram symbol or a ball of wool. We have more than a 100 symbols to choose from to make your labels even more fun and personal.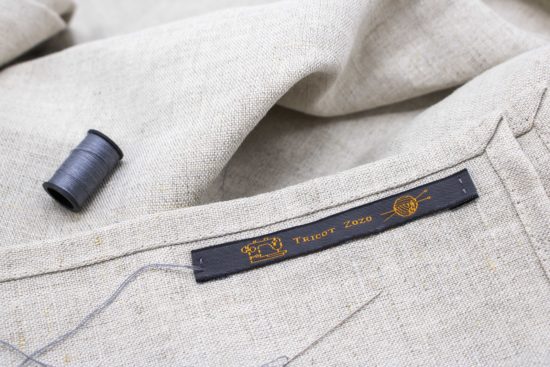 An iron-on label has a thermo-adhesive adhesive layer on the back. You can easily iron this type of label into your product in 15 seconds, by ironing with hard pressure, without steam. If you are ironing on nylon or other fabrics that do not tolerate an iron, we recommend placing a cloth between the label and the iron. An ironing instruction is included with your order.
Our iron-on labels are, just like the sew-in labels, available with the label height/band width of 10 or 14 millimetres. This type of label does not have a fixed length, but grows with the length of your text and the chosen font. There is 8 millimetres of blank space on both sides of an iron-on label.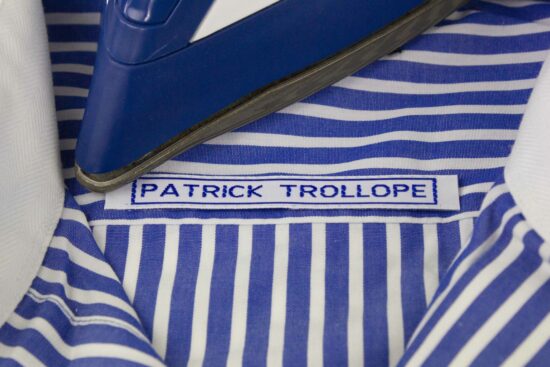 Our clothing labels have a fixed label height/bandwidth of 25 millimetres and 5 fixed fonts. With a clothing label you can choose from two folding methods: a centre fold or an end fold. You can see the differences in the images below.

Our end fold labels are intended to be used flat in your product, where you first fold the ends and then sew. The labels with centre fold are meant to stick out somewhere on the side, for example from a pillowcase. Would you like a more detailed explanation of a label with an end fold or centre fold? And the difference between a portrait and a landscape label? We explain the exact differences in this blog.

If you want a label with your own design, logo or font, choose a label with logo. On our site you can choose from 3 label heights, 15 millimetres, 25 millimetres or 40 millimetres. Easily go through the steps on the website, choose a portrait or landscape label (explanation) and choose a centre fold or end fold.
End fold or centre fold?
Just like with the clothing labels, you can choose a label with an end fold or a centre fold for a label with a logo. With a label with centre fold you have the choice to place your logo on one side, on both sides, or your logo on the left, and text and / or washing symbols on the right. The length of a label with logo with end fold is 6 centimetres, with 1 cm of folding / stitching space at both ends. The length of a label with centre fold logo is 10 centimetres, leaving 1 centimetre at both ends.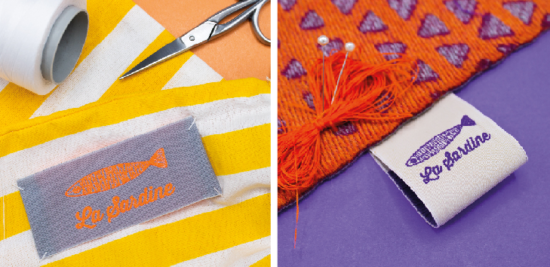 At step 4 you can upload your logo file. Once you have done this you will see a simulation of your label. It is important to check the simulation carefully, because what you see in the simulation will be woven exactly like this.
Since it is a woven product, it is important that the logo you upload is not too fine / detailed. If the simulation displays something that does not match your logo and does not display the desired result, adjust your logo file and upload again. Increasing the contrast of your logo and cutting out empty space around the logo often helps.

Our labels are woven in 2 colours; 1 base / background colour and a text / figure colour. We recommend uploading your logo in 2 colours, with a high contrast. Because the better the contrast in your logo, the more clearly your logo will be visible on the label. Once you've uploaded your logo, it will appear in blue on white. Later in the process you can change the colours by choosing from our range of colours.
Do you need size labels for your clothing or brand? You can order our size labels from 200 pieces. You can divide this number over 2 sizes (for example 100 labels with size M, and 100 labels with size L). Just like our other labels, the size labels are supplied on a roll, suitable for cutting and folding yourself. The size is visible on both sides of the label. You can easily sew these labels directly into your product, or sew it to the bottom of another clothing label.

Are you looking for a personalized text ribbon? At Nominette, you can design your own text ribbon from 10 meters. Super nice to decorate a personal gift, for example. The possibilities for a text ribbon are endless. Our text ribbon is available in 10 or 14mm label height/band width. Your design / text on the ribbon will be repeated at least 10 times. So you receive 10 lanes of at least 1 meter.
Choose one of our fonts, determine your text and possibly symbols and select your colours, or choose one of our fixed colour combinations.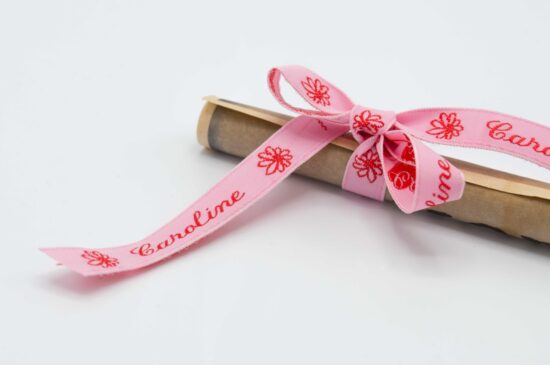 Start creating!
We hope this blog has created some clarity to help you choose your type of label. If you are not quite sure or do you need some more advice? Please do not hesitate to contact our customer service via info@nominette.com or +31 (0) 407920038.
Also follow us on Instagram or Pinterest for more inspiration!