Whether it's time for a birthday party, making a birthday present or some birthday decoration, you just want to surprise the little ones by making something special yourself. We are happy to stimulate your creativity with some new ideas and during this period it could be that you have some time to spare. Time to pick up an old hobby or learn something new. Be inspired by the DIY projects for small children below.
Stuffed animal
Say, looking at this stunner, don't you just want to start straight away? Use various beautiful colours of yarn and you'll crochet (or knit) an original stuffed animal yourself. No idea where to start? Then look for a good wool store nearby, we went to "t Weverke" in Someren. The local stores can certainly use your support now. And don't forget to order a nice label from Nominette. An original quote or the name of the child on the label will make it complete.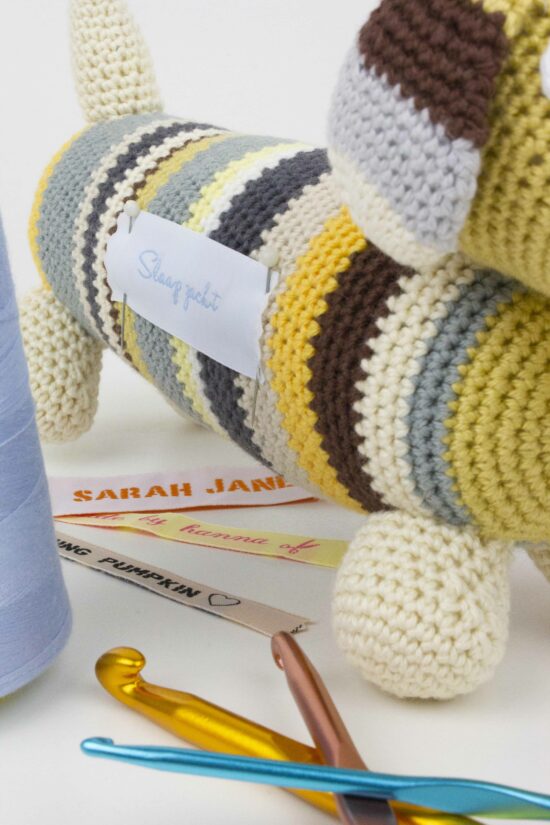 Golden edge
You think knitting's old fashioned? Then you're not up to date, it is incredibly trendy at the moment! The real enthusiasts knit with an eye for detail. Like the white knitted line and gold embroidered first letter of the name (B from Boaz) it will provides cherry on the cake. And don't forget to sew the name tag "Boaz my sunshine" with the sun as a symbol for the name.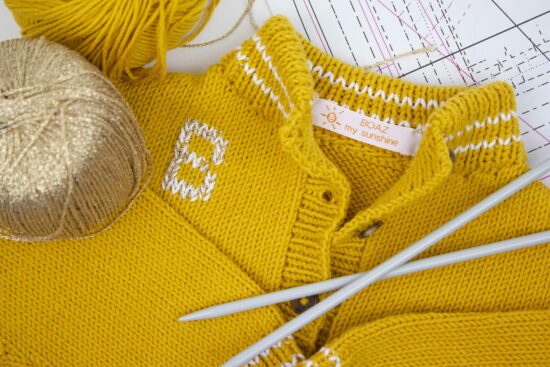 Party animal
Hip Hip, hooray!! A wonderful day to celebrate a birthday and put the birthday girl or boy in the limelight. With fun prints, buttons, ribbons and labels, you'll surprise the little one with the coolest homemade birthday crown. Golden tip: you can adjust the numbers every time. So now it is for a 1st birthday but next year you can use the crown again by putting the number 2 behind the transparent window.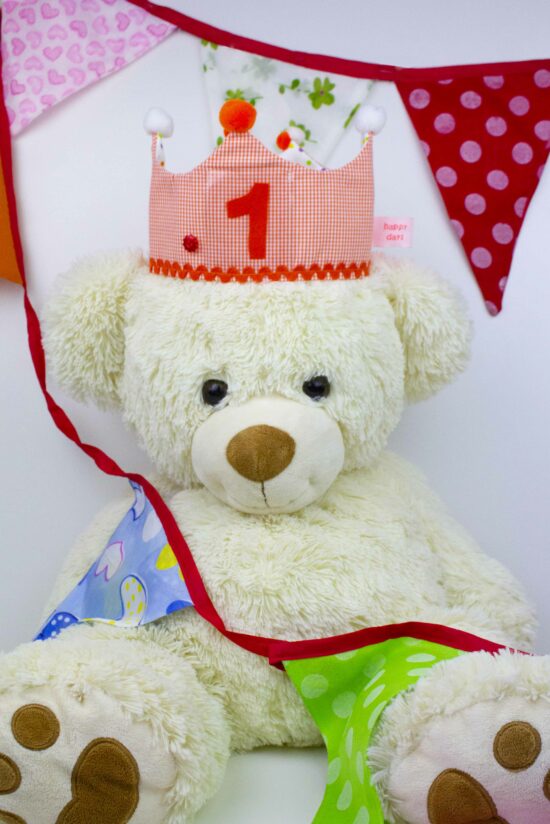 So edible
In addition to the birthday crown, the birthday decoration flags shouldn't be forgotten. You can also make these yourself with the most beautiful fabrics. Would you like to add a nice message to them. With an ironing tape you'll have it ready in no time. The party can start! Who will blow out the candles?
Have a lot of DIY-fun! We are sure you will feel very proud when you finish it.
The Nominette team